Consultation launched for Glasgow lanes development
December 7 2015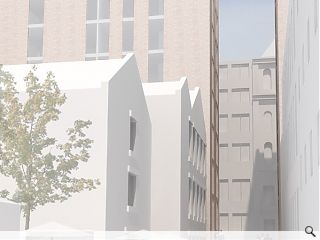 Chris Stewart Group are to hold a public consultation over plans to develop a complex of mixed-use buildings off Glasgow's George Square after being
selected as preferred developer by the council
.
Centred on John, Martha and George Street's the Hoskins Architects plans would rehabilitate seven existing buildings, several of which are listed, as well as new build additions to create a new pedestrian route lined by cafes, restaurants, boutiques and galleries.
Chris Stewart, CEO of Chris Stewart Group, said: "This is an important site and we welcome all views as we shape our ideas and designs. We want to create a vibrancy for the area and intend to turn this derelict and run down group of buildings into a dynamic and lively new destination for the city. To do that, we are looking at a mix of new uses for the buildings; uses that we expect will deliver an economic boost for local traders, together with considerable benefits for local residents and visitors to the city."
The consultation will be take place at 266 George Street between 14:00 and 20:00 on 8 December.
Back to December 2015