Plans submitted for Citizens Theatre overhaul
December 8 2015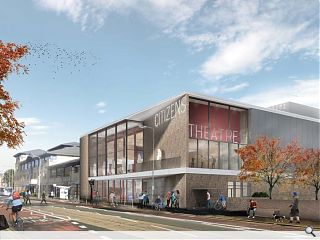 Bennetts Associates have
submitted plans
for the renovation and expansion of
Glasgow's Citizens Theatre
by refurbishing the historic auditorium whilst sweeping away later piecemeal additions to allow a wraparound new build structure.
This will allow creation of additional accommodation for learning, studios and workshops as well as building a new street frontage and foyer with a new front to back connection created alongside the existing auditorium to provide full public access to historic stage machinery.
In their design statement the architects observed: "The façade to Gorbals Street has open-ness and transparency that will reveal the auditorium gable and the activity of the foyer. It will make the theatre open and welcoming, and allow it to engage with the street.
"The auditorium will be at the centre of the scheme, and the layers of modern finishes will be stripped back to reveal its sandstone walls. Foyer spaces will be placed dramatically between the new accommodation and the old walls of the auditorium, with stairs and bridges occupying the space between."
New elevations will be clad predominantly in brick with a pre-cast concrete string course with metal cladding applied to the side elevations and fly tower.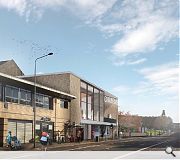 A low brick wall will run the length of the block with embedded seating where it meets the building and storey height advertising screens on the corner.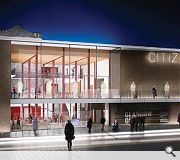 A series of John Mossman statues salvaged from the original theatre will be reinstated
Back to December 2015