Staran Architects apply finishing touches to Waverley Arches
November 9 2015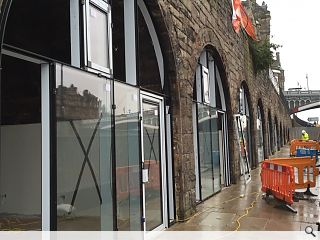 Staran Architects are close to unveiling Edinburgh's revamped
Waverley Arches
on behalf of Artisan Real Estate, a project which they hope will reconnect North Bridge with the Canongate through what was once a 'no man's land'.
The £1.5m project will see a set of C-listed stone arches on Jeffrey Street converted to offer space for a variety of bars, restaurants and retailers by instaslling new glass curtain walling and feature lighting.
Staran Architects director James Ferguson commented: "There is an obvious sense of splendour with the detailed stone work within the vault of the arches ceilings, however, the practical issue was how to prevent water coming in from Jeffrey Street above.
"Traditional damp proofing techniques suggested dry lining the roof with a membrane, but any visual aesthetic would be instantly lost. We had to think outside the box, and worked hard with a damp proofers Richardson and Starling to come up with a clear resin that keeps the stone work in place, but still offers a robust damp proofing solution."
Since setting up practice in 2012 Staran has grown to a team of four and has been involved in a number of projects around Edinburgh such as the
Code youth hostel on Rose Street
and is currently in process of converting the former Broughton High School into 74 homes.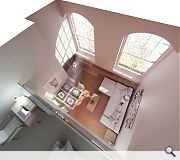 Staran are in process of converting the former Broughton High School into 74 homes
Back to November 2015