Draft Sauchiehall District master plan goals published
November 9 2015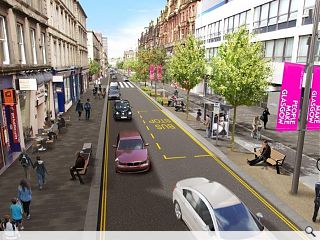 A list of eight priority public realm improvements for Glasgow's
Sauchiehall and Garnethill District
have been identified by Nick Wright Planning and Gehl Architects, intended to reconnect places and people severed from the city centre by the M8 motorway.
This includes a series of three interventions at Charing Cross, namely removal of existing slip roads to free up space, decking over the motorway to provide new parkland and construction of a pedestrian footbridge connecting the Mitchell Library to Charing Cross Station.
Further north an 'underline' pedestrian link is envisaged tracing the route of Great Western Road through Cowcaddens with public realm enhancements and art installations alongside a rationalisation of the existing road network.
In a
Glasgow City Council committee document
the master planners note: "The principal challenge here relates to the feasibility and cost aspects of capping over the M8 in cutting. There should be no problems in terms of providing sufficient headroom for M8 traffic, so long as the depth of the structure does not exceed that of the Sauchiehall Street and Bath Street bridges to north and south.
"There will be a need to provide adequate ventilation, but this should not be an insurmountable object. The cost of the new deck will relate to the weight it is expected to bear, but there need be no requirement for any vehicle access; and the nature of the landscaping scheme can be determined with this in mind."
Sauchiehall Street itself would see improvements made to footways and cycle facilities whilst Cowcaddens Station, Port Dundas Junction and Cowcaddens Road would also be upgraded.
Full draft proposals for the works programme will be published on 20 November.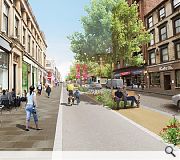 Sauchiehall Street will be transformed into a tree-lined avenue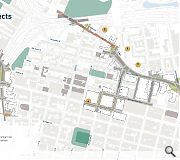 When fully realised the ambition is to fully reconnect the west end to the city centre
Back to November 2015