Ninewells 'leaf room' secures planning consent
November 10 2015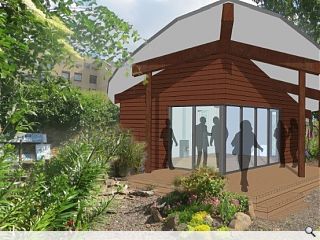 The Voigt Partnership has won planning consent for an eco-garden room at Ninewells Hospital Dundee following their
success in a national design competition
.
The leaf room is designed to provide a space for gardening, drawing together hospital users in a sociable space, which takes the form of a regular rectangular room oversailed by a leaf-shaped roof.
Architect Jonathan Reeve said: "The proposal is innovative and exciting; and will sit comfortably in the garden space it occupies, creating a strong connection between building and garden.
3871 Ninewells Garden Room 3D Animation Nov 2015 - The Voigt Partnership from Voigt Partnership Ltd on Vimeo.
"It is hoped that staff, patients and the general public will benefit this and be attracted the to the excellent existing community garden which is a real hidden gem at the hospital."
Construction work should commence early in the New Year.
Back to November 2015