Hypostyle's Glasgow Distillery squares up
October 22 2015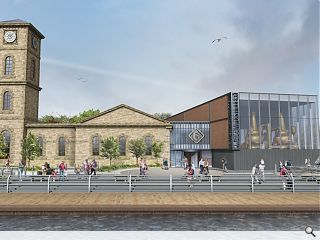 Hypostyle-BR Architects have
reworked their plans for a whisky experience and distillery
within the Pump House Building at Glasgow's Queen's Dock following a decision to deliver the project over two phases.
This will see existing plans to extend and convert the B-listed building revised to accommodate a an exhibition and visitor centre alongside a new build distillery which has been simplified to a straightforward block pavilion.
Clad in blue-grey standing-seam metal and large areas of glazing to open up views of the copper stills with louvred timber screens facing areas of public realm to impart character and warmth.
Existing stone walls of the pump house will be retained to form a backdrop to a glazed concourse connecting both elements with floors set back to allow the original windows to sit uninterrupted.
In their design statement the architects observed: "The distillery building will take the form of a solid metal clad volume with minimal fenestration. A large glazed area will display the iconic stills and establish views down the river internally. The metal cladding is intended to give life to the volume, changing with the varying lighting and weather conditions. A louvred timber screen provides warmth and detail where the large structure adjoins the public walkway and listed building."
Space on-site will be retained to allow for the future expansion of visitor facilities within a
signature drum-shaped pavilion as originally envisaged
and a 6m wide riverfront walkway will be included.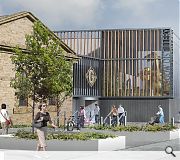 An entrance square will be located to the north west at the foot of an expressway footbridge
Back to October 2015