Halliday Fraser Munro has appointed one of Scotland's Most Prominent Architects
September 30 2015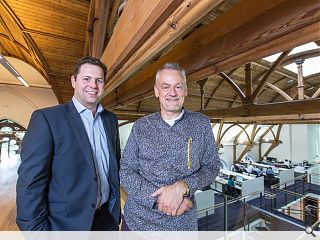 A leading Scottish architect, renowned for high profile masterplanning, cultural renewal and regeneration work, Malcolm Fraser, has joined Halliday Fraser Munro.
One of Scotland's leading firms of architects with offices in Aberdeen, Dundee, Edinburgh, Glasgow and Belfast, Halliday Fraser Munro continues to enjoy strong, sustainable growth across the public and private sectors with commissions for masterplanning, residential, commercial, student accommodation and hotels throughout Scotland.
The firm has appointed Mr Fraser following the closure of his practice after 22 years in business in a move that shocked many in architectural circles.
David Halliday, managing director, Halliday Fraser Munro, said: "Malcolm has been a leading force in Scottish architecture for many years. We are thrilled that he is joining us as we seek to strengthen our position across Scotland. He will complement our existing pool of talented architects and ensure that we continue to raise design standards in the country.
"His acknowledged authority in masterplanning, cultural renewal and regeneration work, combined with a consistent philosophical approach to the integrity of the built environment will bring an added dimension to Halliday Fraser Munro."
The Edinburgh-born architect, who has won multiple awards and recently led the Scottish Government's Town Centre Review, will join Halliday Fraser Munro this week.
Mr Fraser said: "I am looking forward to taking the creativity and integrity for which we were renowned to a firm which shares my ethos and passion and is in a strong financial position with the necessary resources to deliver major projects."
Back to September 2015