Union Square consultation outlines £200m mall expansion
September 14 2015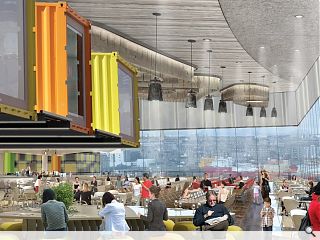 Developers behind a £200m expansion of
Aberdeen's Union Square
have staged a public consultation to bring 30 new retailers, a 120-room hotel and a food court to the shopping mall.
Early design work calls for the creation of a 240,000 sq/ft extension housing a mix of retail, leisure and restaurants as well as an expanded cinema, plugging into BDP's city centre masterplan.
A surface car park will be built on to make way for this extension, offset by 600 additional slots bolted onto an existing multi storey car park.
Two potential conceptual approaches are being investigated for the exterior of this extension, the first of which will employ grey stone with recessed 'portholes' to gel with the surrounding harbour and granite.
Another approach would see a 'soft, gracious form' hark back to the structure of traditional timbered boats which once populated the harbour in the 19th century.
Consultees have until October 9 to comment on the planned designs with a planning application expected before the year is out. Construction is then likely to get underway by early 2017.
Alternatively a facade of grey stone will be used, enlivened by pockets of colour and recessed windows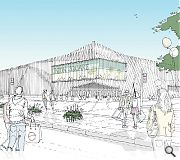 One approach would embody Aberdeen's maritime heritage by mimicking the form of a ship's hull
Back to September 2015