Yeoman McAllister draw up Cramond care home plan
September 14 2015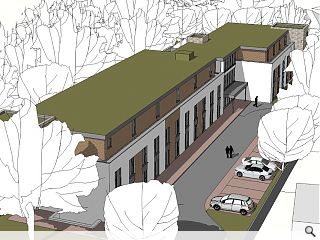 Yeoman McAllister Architects have submitted plans for a new care home on behalf of the Care Concern Group at 18 Whitehouse Road, Edinburgh, within the Cramond Conservation Area.
Sporting a rendered exterior with timber cladding and reconstituted stone detailing the 61 bedroom facility is located within an established residential neighbourhood, facing a steep wooded embankment down to the River Almond.
In a statement the architects said: "A simple palette of quality materials, detailing and openings promote a sense of unity across the scheme. The coherent design also helps the development sit comfortably in the surrounding area, building lines are adopted from the context, with attention paid to massing and ridge heights from many principal adjacent buildings."
An unlisted detached home dating from the 1960s/70s set within 0.48 hectares of land will be demolished to make way for the scheme.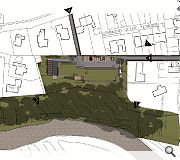 A 'Z-plan' will see teo wings of accommodation meet at a central reception and communal space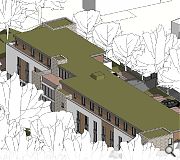 Existing boundary walls as well as mature shrubs, trees and hedgerows will be retained
Back to September 2015