Expresso Property to host Park Circus consultation
September 15 2015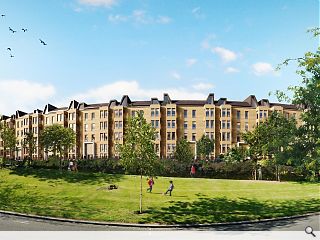 Yorkshire based developer Expresso Property and Holmes Miller Architects are to stage a public consultation to complete the
missing portion of Charles Wilson's 1850's Park Circus masterplan
with the addition of 111 flats above a linear landscaped parking deck.
Park Quadrant on the northern ring of the Victorian set piece has lain unfinished for an incredible 150 years, challenging the architects to deliver contemporary infill that references the grand scale and proportions of the historic townhouses.
This sees the practice specify high floor to ceiling heights, expressive entrances with a rhythmic façade of bay windows and blonde sandstone below an expressive roofscape of slate hipped 'attic' windows.
David Gardner, project director of Holmes Miller, said: "The design will echo the characteristic features of what makes the area so special, taking its cues from its historic neighbours. Whilst being contemporary in its approach, it will seamlessly complete this important part of Glasgow's urban fabric."
Stephen Hampshire from Expresso Property added: "Holmes Miller's thorough understanding of the Park area of Glasgow, in particular the circus with its eccentricities, has led them to generate a design that respects the classical setting whilst providing excellent opportunities for contemporary living."
The consultation will be held tomorrow between 13:00 and 20:00 within St. Silas Church Hall with construction expected to commence by summer 2016 for a 2017 completion date.
Back to September 2015