Plans emerge for more Finnieston housing
August 13 2015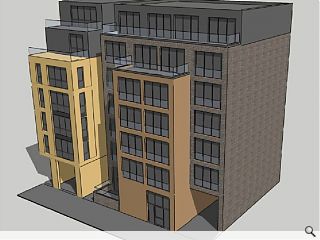 Rhubarb Blue have submitted an application to demolish a funeral directors on Glasgow's Minerva Street and
build 13 flats
together with associated parking beneath a landscaped amenity deck.
Situated next door to a
recently completed Holmes Miller scheme
the new proposal will be finished in grey and buff brick with a metal clad penthouse floor setback from the street.
The in-house design depicts a residential block rising to seven storeys, equaling the height of its neighbour and extending the urbanisation of the area brought about by the wider regeneration of Finnieston.
Rhubarb Blue was founded by Colin McIntyre, a graduate of the Mackintosh School of Architecture and co-founder of Imagine Developments.
A separate
189 home scheme is currently in planning further down the street
.
Back to August 2015