Contentious Edinburgh 'ribbon' hotel wins seal of approval
August 12 2015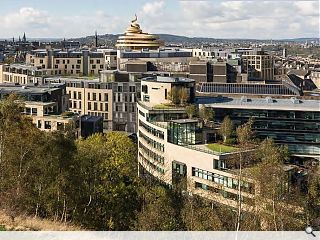 Contentious plans to erect a set-piece hotel at the heart of the planned
redevelopment of Edinburgh's St James Centre
have been given the go-ahead by the city's development management sub-committee – against the recommendation of their own planners.
The decision clears the way for developer TH Real Estate to begin work on the peeled 'egg' shaped structure, which will rise 106m AOD and offer expansive views across the city from a public gallery. This follows a 20m height increase and a corresponding increase in girth to 50 by 38m at its widest to accommodate the rooftop look-out.
Explaining these changes Jestico + Whiles noted that the newly 'inverted' nature of the design (bars and restaurants at the top with bedrooms below) would democratise access to the views but also necessitated larger cores to accommodate increased vertical circulation.
The architects said: "The ribbon feature element at the top of the building has been conceived to be elegant and ethereal, as if flying like a pennant in the Edinburgh breeze. The height and form of this feature poses significant structural challenges and the elegance and lightness that has been successfully achieved belies the necessary structural system which is integrated so as to be entirely invisible."
The five star hotel will span 12 floors and is clad in a combination of glass and bronze coloured stainless steel.
Back to August 2015