Revised Perth Theatre designs submitted for planning
July 28 2015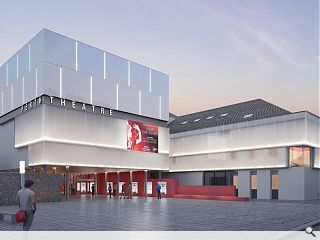 Horsecross Arts, the charitable trust behind plans for a
new Perth Theatre
, have submitted
revised plans for a 200-seat auditorium and foyer
to serve the existing B-listed Edwardian venue after it was determined that the original scheme could not be delivered within the £16m budget.
As such Richard Murphy Architects have reduced the volume of new build spaces required to house a new entrance off Mill Street with a greater focus on the existing historic fabric which will be refurbished as part of the work.
Principally this entails tightening up the proposed foyer space whilst reducing the scale of the studio theatre and recessing the main façade further back from Mill Street.
In their design statement the practice wrote: "We have retained the redesigned the Mill Street façade, which wraps layers of glass/acrylic cladding around both the studio theatre and the dressing room wing. The topmost 'layer of this cladding to the studio theatre has been amended to a polished aluminium panel system to conceal the reorganised plant at roof level. All these layers are supplemented by edge lighting.
"The parts existing of the existing building immediately south of the theatre, which were demolished in previous schemes, have now been retained and reused."
Scheduled to re-open at the close of 2017 the theatre's delivery remains subject to a final £1.5m fundraising drive, which could see work commence by the end of the year.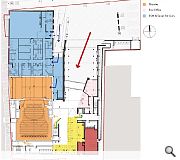 A greater proportion of the existing theatre will be retained to trim costs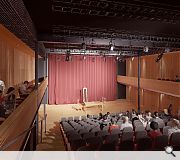 New-build spaces have been scaled back to bring the project in on budget
Back to July 2015