Merchant City Festival chalks up first success
July 28 2015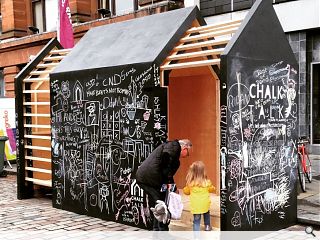 A wooden pavilion that is part work space, part blackboard, has been given its first public airing at Glasgow's Merchant City Festival - where it has been tempting passers-by to doodle on its walls in an unconventional approach to information gathering.
Chalk Talk is the product of a partnership between Dress for the Weather and the Department of Architecture at the University of Strathclyde and will play host to a series of workshops throughout the festival focussed upon the evolving built environment of the area.
During these festival-goers will be encouraged to chalk up their own thoughts and stories to stimulate discussion and power the debate.
This programme will kick off on Wednesday with a walking trail drawn up by the Glasgow Institute of Architects designed to point out areas of local interest followed up by a Friday workshop organised by present and future students of architecture who will present a series of talks and tours.
On Saturday Lateral North will investigate Scotland's place within a rapidly evolving northern region before Dress for the Weather present their research into the architecture and design of the humble pub.
The climax of activities will take place this Sunday when a round-up of the week's work will be presented.
The pavilion was designed and constructed by Masters students Andrea Hickey and Neal Hemingway.
Back to July 2015