Plans drawn up for Aberdeen student accommodation
July 14 2015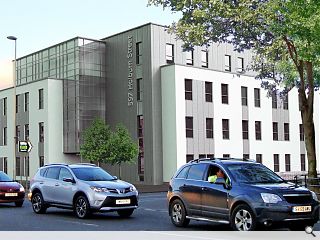 Halliday Fraser Munro have
drawn up plans for a on behalf of SHC Developments
to demolish a detached dwelling house on Aberdeen's Holburn Street to make way for 46 student flats.
Clad in glass, standing seam metal and white render the scheme will retain existing trees, extrapolating the form of an existing adjacent build.
In a design statement the architects noted: "The design takes the form of an L shape maximising the street frontage; this creates an area to the rear which will be used as amenity space for the residents and reduces impacts on adjacent properties.
"At the corners the building is stepped down to form a feature which creates the appearance of a series of stacked accommodation blocks. This breaks down the massing of the buildings and opens up the corner to allow 'welcome zone' area for landscaping at the main entrance to the development."
The scheme supersedes a prior five storey iteration which was deemed to be 'too bulky'.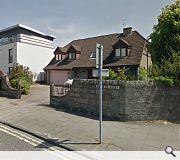 An existing detached dwelling will be demolished to amke way for the build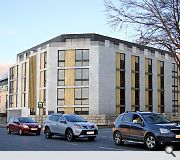 Halliday Fraser Munro 'refined' this initial proposal after discussions with planning
Back to July 2015