Modernisation plan tabled for military funded Dunblane school
July 14 2015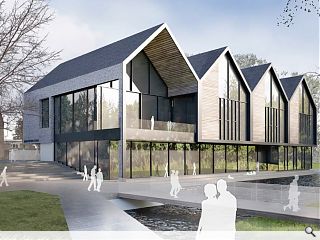 Holmes Miller Architects have
submitted plans for the phased redevelopment and modernisation of Dunblane's Queen Victoria School
, an historic teaching campus funded by the Ministry of Defence.
The plans call for the creation of new teaching and accommodation blocks as well as creation of new landscaping overseen by Horner + MacLennan and the demolition of unlisted buildings which have eroded the setting and character of listed elements, which will be retained and refurbished.
New build elements include a brick clad teaching block with a serrated roofline intended to reference the gable forms of surrounding architecture.
In a design statement Holmes Miller noted: "The predominant material to the North / West / East elevations would be high quality facing brick, which would be detailed to provide the building facades with a sense of depth and solidity. Regimentally positioned windows with deep full brick ingoes would offer a façade of robustness and maturity, that forms a fitting backdrop to the central Listed main building.
"To the North, the gabled elevations are more prominently expressed, with large glazed panels providing a view across the playing fields, and allowing controlled North light to enter the teaching spaces within. The building steps back at ground floor level, to allow a pedestrian footpath to run parallel with the Ryland Burn, allowing the bulk of the building to 'float' above the waterline, connecting softly within the landscaped setting."
A number of accommodation blocks will also be built, accessible from a new pedestrianised landscape, each of which will be finished with 'differing but complimentary' facing brick and defined by a double-height common room space.
Back to July 2015