Funding deal to prep Clydebank shipyard for £250m 'community hub'
July 13 2015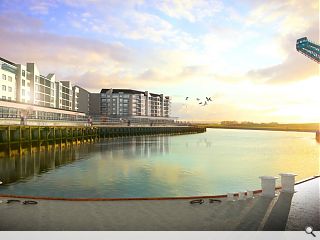 West Dunbartonshire Council is to invest £15.62m for infrastructure improvements around the former John Brown's shipyard, Clydebank, opening up potential for delivery of a £250m mixed use scheme on the riverfront site.
The cash will be allocated to the repair of quay walls, roads infrastructure and site enabling works after developer Clydeside Regeneration announced that it was unable to fund the work directly but has agreed to recoup costs by sharing the financial benefits of any future uplift in land values.
This work is likely to commence early next year for completion by early 2018.
Patrick McGlinchey, convener for infrastructure and regeneration, commented: "This deal sets Clydebank up for the most exciting period the town has enjoyed for decades. It is the biggest and most influential project the Council has ever been involved in as we look to transform the former John Brown's yard into a bustling community hub.
"To see over 1,000 new homes built at this stunning location overlooking the Clyde, as well as a range of other amenities, will help to drive population growth and bring a number of economic benefits to Clydebank."
Queens Quay could host up to 1,000 new homes, a shop, hotel, care home and health centre, connected to Clydebank town centre by a new boulevard, if the full scope of the developer's vision is realised.
The scheme would complement a new
£22m leisure centre
which commenced construction in June.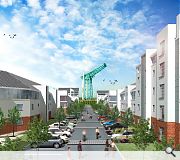 A new boulevard will connect the riverside to the town centre
Back to July 2015