Final phase of Anderston master plan hits planning
July 10 2015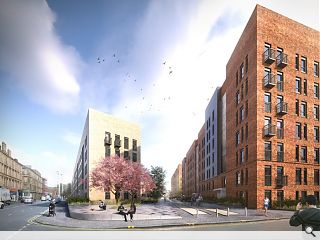 Collective Architecture has submitted plans on behalf of Sanctuary Scotland Housing Association for the erection of 206 flats to complete the current master plan.
Comprising a mix of properties for social and mid-market rent as well as shared equity the scheme will front a busy junction on ST Vincent Street presently occupied by a
10-storey slab block and several smaller four storey blocks
; all of which are currently being demolished.
These will be replaced by five blocks of double-fronted housing which will address both street elevations and gardens whilst restoring the lost Victorian street pattern.
In a statement the architects said: "Two six and seven storey brick buildings form a strong edge to the reinstated missing section of Argyle Street at the heart of the site. Two five storey buildings along St Vincent Street have sandstone elevations which reflect the existing tenements directly opposite.
"These are completed with a grey brick to the garden elevations, which is carried over to a further 4 storey block which addresses a second new pedestrian street."
The current work follows on from Collective's delivery of
44 flats and five town houses last year
.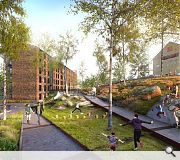 Collective are working with artist Toby Paterson has been brought on board to produce a series of 'integrated interventions' within the new buildings and urban spaces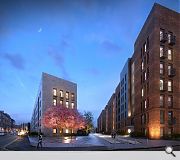 Once complete the redeveloped estate will offer 500 new homes
Back to July 2015