143 affordable homes planned for Nitshill
July 9 2015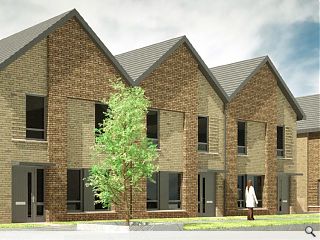 Sanctuary Scotland Housing Association and Mast Architects have submitted plans to
build 12 cottage flats and 131 houses
on the site of the former Craigbank housing estate, Nitshill, Glasgow.
Built to a density of 18 dwellings per hectare the development incorporates a mix of detached, semi-detached and terraced housing spread evenly throughout the 7.87 hectare site.
In their design statement Mast stated: "Although the development uses a mainly brick façade, creative detailing has been utilised to create a dynamic and modern aesthetic which animates the façades. This is achieved through the use of extended cavities which
create deep reveals and vertical framing elements around windows and horizontal framing elements to the gables of key blocks to lead your eye into the centre of the development where the communal amenity space is located.
"Corbelled brick detailing is also applied to the facades to give the illusion of elongated window elements and lead your eye around the façade. The same brick detailing is used on all block types throughout the development which creates a unifying aesthetic.
"In contrast to the brick, dark grey cladding panels will be used sporadically throughout the development to define certain aspects of the site and add an additional visual element to the facades."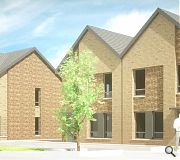 A central amenity space will encourage movement across the site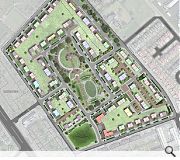 Housing types will be spread evenly across the estate to enhance diversity
Back to July 2015