Pedestrian link repairs Charing Cross streetscape
July 8 2015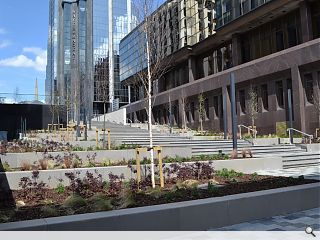 LDA Design have pulled the wraps off the newest addition to Glasgow city centre's public realm, a short pedestrian route connecting St Vincent Street to William Street at the base of Abstract's
recently unveiled St Vincent Plaza
, Charing Cross.
Caithness stone and granite aggregate paving have been specified for the newly created streetscape with raised planters creating a terrace of ornamental trees and shrubs in an effort to improve the surrounding setting.
A bespoke lighting scheme has also been employed with up-lighting of the M8 underpass and feature signage encouraging out of hour's activity and footfall.
Abstract director Christopher McPherson said: "The restoration of an historic link between St Vincent Street and William Street, and the Hilton Hotel in particular, is a fitting legacy resulting from our St Vincent Plaza development which will benefit the people of the City of Glasgow for generations to come. It is a significant project in its own right and a further enhancement to the local environment."
The new space will be formally opened to the public in September.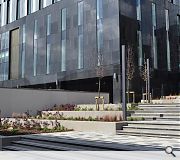 The pedestrian shortcut will be opened in September
Back to July 2015