British Golf Museum unveiled ahead of St Andrews Open
July 6 2015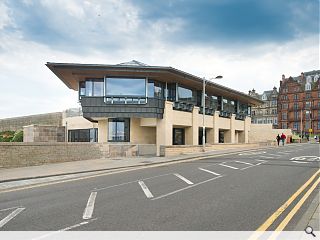 Richard Murphy Architects have lifted the wraps from their
British Golf Museum extension
, just in time for The Open to get underway in St Andrews on 16 July.
Offering expansive views across the first tee the revamped facility incorporates an 80-seat café and outdoor dining terrace whilst the entrance has been overhauled to project a greater sense of gravitas.
Bill Black, director at Richard Murphy Architects said "It has been an honour to design a building next to one of the oldest and most iconic golf courses in the world.
"The design is conceived as a simple pavilion in the landscape and takes something from the language of the existing bandstand, the other golf pavilions and beachfront buildings in general.
"The orientation of the cafe has been key to the design, maximising the views across the Old Course for cafe visitors, whilst leaving uninterrupted views to the beach beyond for the adjacent existing buildings at the edge of the town."
First opened in 1990 the museum plays host to 16,000 display items telling the story of golf from its 17th century beginnings through to the present day.
Images by GSR Photography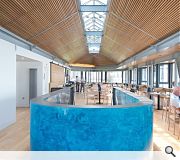 Signature Richard Murphy details such as a polished plaster stairwell and custom ceiling light are present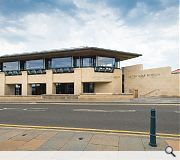 The museum's previous guise was described as a 'semi-hidden' bunker
Back to July 2015