Urban Realm summer edition now available
July 3 2015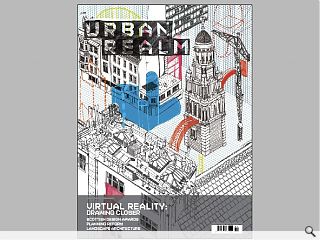 The start of July brings with it the second issue of Urban Realm magazine with it for the year as we take an in-depth at the past, present and future of the architectural profession.
Urban Realm editor John Glenday said: "Summer may be as elusive as ever but that doesn't mean there's a cloud hanging over the nation's design, as we show in our gallery of winning work from the Scottish Design Awards.
"One arena which is guaranteed sunshine is the nascent world of virtual reality where blue skies can be programmed on a whim and users never need fear getting wet, more than that however it promises to revolutionise our approach to design.
"As well as casting our gaze into the future we also delve into the past with a look at how Ralph Erskine's Byker Wall has aged, 33 years on from its completion. On a shorter timescale we also make a return to Linwood, recipient of a 2011 Carbuncle Award to assess how the resulting media storm opened doors for a community which had been struggling to make its voice heard.
"The meat of this issue can be found in our extensive look at landscape architecture an all too often overlooked sector which we are determined to give prominence to."
To read all this and a lot more besides
get hold of your copy now
.
Back to July 2015