Architecture student recognised for Gray's School of Art reimagining
May 14 2015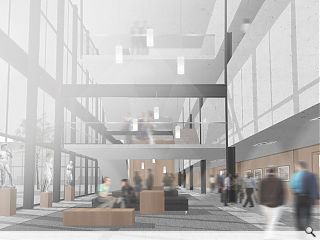 A student at the Scott Sutherland School of Architecture has been recognised for an ambitious reimagining of Gray's School of Art,
a Miesian steel and glass structure which has been threatened with demolition
.
Architecture student Calum Dalgetty picked up the school's Rob Hunter Prize for his designs for a new exhibition and conference centre within the historic building, designed by Michael Shewan in 1967.
Centred on an existing courtyard space Dalgetty's design makes use of the south façade of the main block as a double height atrium housing reception and bar spaces, off which exhibition spaces, offices and meeting rooms can be accessed.
Stage Three Architectural Design Studio Leader, Conrad Wiedermann, commented: "The challenge of adaptive reuse is to take on board the potential of the original context and building, and to give it a new life. This subtle skill of understanding the past while developing a future with courage is apparent in the students' work.
"Calum's project is characterised by a clear and careful planning that results in magnificent relationship to the landscape as well as socially rich social interiors.
"His response to the project brief results in an architecture that updates the building both technically and aesthetically and is presented comprehensively and beautifully though drawings and 3D explorations."
The proposals will be presented at the school's Big Crit event on Friday, 22 May between 09:30 and 18:00.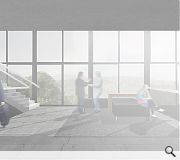 Members of the public are being invited to view students work next week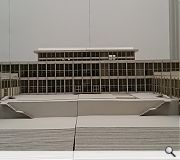 this scale model of Grays was painstakingly built by all Stage Three students
Back to May 2015