Planning application filed for Lenzie Moss Primary
May 14 2015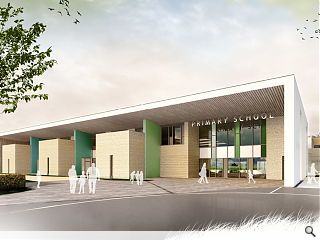 East Dunbartonshire Council and Holmes Miller Architects have lodged plans for a
replacement Lenzie Moss Primary School
in north east Glasgow.
Located on land adjacent to the existing school the scheme is focused on a large central hall around which is arranged ancillary accommodation and twin teaching wings, articulated by a large over sailing canopy which shelters roof terraces and external classrooms.
In their design statement Holmes Miller noted: "The building forms derives largely from the plan arrangement, with the cloak pods and terraces aligning as the main feature of the long elevations. The pods create a 'saw toothed' elevation, which offers opportunities for articulation and expression, with animated, vibrant and functional external teaching spaces occupying the enclosed space between each of the pods, creating a building of character.
"The two wings of the building can be easily read, and are expressed as individual components, linked with the central hall spaces."
A single storey nursery element will reduce the mass of the building to the north.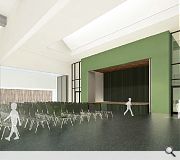 Details such as copies, pods and entrance features are employed to break up the apparent mass of the build
The school will be clad in a multi-tonal rustic brick
Back to May 2015