Upgrade of Edinburgh University's 'tatty' McEwan Hall moves forward
April 23 2015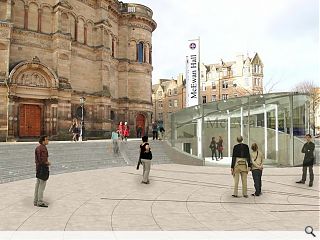 Construction group Interserve has been appointed to deliver a £19.1m renovation of Edinburgh's A-listed McEwan Hall
drawn up by LDN Architects
.
The University of Edinburgh venue is to be brought back to its former grandeur with a combination of conservation work and improved layouts as well as new landscaping around Bristo Square, including a new glazed entrance pavilion sitting at the centre of a circular amphitheatre.
A new corner stairwell will provide unified access to all levels for the first time and the basement area opened up, illuminated by a ring of roof lights around the existing building, with building services being completely reworked with new ventilation and heating systems improving both comfort and improve humidity levels to protect the restored Willis organ.
Outlining their objectives behind the overhaul LDN observed in their design statement: "The McEwan Hall is acknowledged by the University of Edinburgh as their flagship building, but it is also acknowledged that it has become 'tatty' and that the access and operational problems need to be resolved. The McEwan Hall is not used intensively and the design team have been asked to consider potential additional uses."
Work on the revamp is expected to conclude in 2017.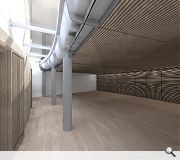 Damp issues necessitate excavation around the hall's base, offering an opportunity for expanding the basement
Back to April 2015