Trust eyes former Royal High for new music school
April 23 2015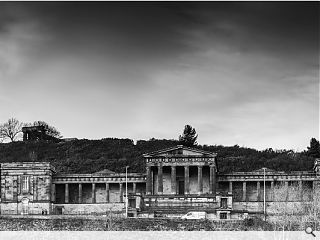 The Royal High School preservation Trust, a newly formed charitable body, has submitted a proposal of application notice to the City of Edinburgh Council for restoration of the former Royal High to house a specialist music school.
Working in tandem with St Mary's Music School the Trust would conserve the existing Thomas Hamilton designed landmark and return it to its originally intended use.
Crucially financial backing for the plan has been secured from the philanthropic Dunard Fund, which has committed itself to providing the money necessary to underwrite restoration of the listed buildings.
The proposal comes in tandem with a separate application by Duddingston House Properties, Urbanist Group and Gareth Hoskins Architects to
transform the contentious site into a luxury hotel
.
William Gray Muir, chairman of the Royal High School Preservation Trust said: "Our aim is the preservation and enhancement of an endangered architectural masterpiece, not just in the context of the City of Edinburgh but Scotland as a whole. Our ardent wish is to achieve this by maintaining the Old Royal High buildings as a school, the purpose for which they were built, and ensure its future use as a vibrant and unique academic institution. What could be more appropriate than making it home to a national treasure like St Mary's Music School?
"St Mary's Music School would breathe life into the building again, making full and imaginative use of its wonderful spaces, filling the rooms with music: a literal rejuvenation of Thomas Hamilton's world-class monument of the Edinburgh Enlightenment."
It is hoped to bring forward detailed plans later in the year.
Back to April 2015