Jestico + Whiles detail plans for set piece St James Centre hotel
April 22 2015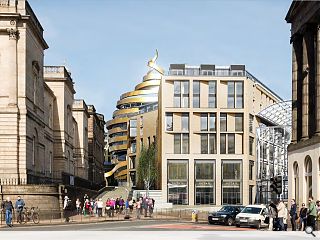 Jestico + Whiles have submitted a formal planning application for the construction of a
signature hotel at the heart of Edinburgh's St James Centre
redevelopment, after being appointed by TIAA Henderson Real Estate to create a 'landmark' build for the mall revamp.
Inspired by Hiroshi Nakamura's recently completed chapel in Hiroshima, Japan and Ron Halad's design museum in Holon, Israel, the scheme is conceived as a brass/bronze coloured stainless steel ribbon, mirrored on the interior face and presenting a clear glazed façade to St James Square, which will be animated by lobby and café areas.
In their
design statement
Jestico + Whiles observed: "The ribbon emerges from the retail levels below in a flourish that initially unruly, settles on a building form until at the uppermost levels it 'unravels' and crescendos into a contemporary elegant spire like form soaring above roof level. The ribbon wraps a simple, continuous, 360 degree glass façade on a tear drop shaped building footprint, grounded to its historical context by a central sandstone clad core running through the height of the building.
"While the ribbon is not proposed as continuous throughout the hotel's nine stories, a continuous spiraling ribbon is located at roof level where it is proposed to sit prominently, elegantly and sympathetically on the Edinburgh skyline."
The project will offer, at most,173 bedrooms across nine levels subject to further detailed design work.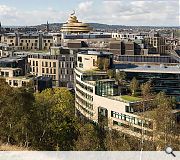 An orange complexion to early depictions has given way to a bronze/brass finish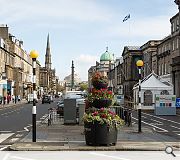 the hotel will be prominent from George Street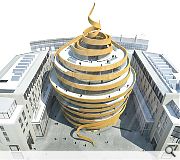 The hotel will sit at the heart of a new public square
Back to April 2015