BMJ submit plans for cutting edge medical imaging centre
March 13 2015
BMJ Architects have
submitted plans
for a new
medical imaging centre of excellence
(ICE) at the Southern General Hospital Campus on behalf of the University of Glasgow.
The £16m research facility will bring academic experts and medical staff together to advance the field of stratified medicine through access to cutting edge equipment such as the UK's first 7 Tesla clinical MRI scanner.
To be built by BAM Construction the facility will take the form of a glazed box overlain by a woven steel mesh to provide solar shading. This will rise above a base of polished concrete panels.
In a statement BMJ said: "The building has been designed to attract the highest calibre of staff, with a unique identity within the hospital campus. The highest quality materials have been selected to ensure the longevity and positive contribution to the surrounding townscape. Proposals also include public realm improvements and a new landscaped courtyard."
Interior spaces are designed to maximize collaboration and will be arranged around a feature helical stair.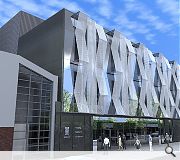 BMJ opted for 3-dimensional layered mesh after finding flat mesh to be too utilitarian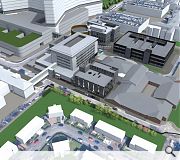 The facility will be built within the grounds of the redeveloped hospital
Back to March 2015