GSA criticised over 'Mockintosh Library' replica move
March 13 2015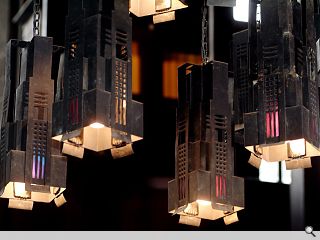 Glasgow School of Art has
dismissed calls to build a contemporary library space within the ruined shell of Mackintosh's masterpiece
, choosing instead to create a replica of the iconic design to match the original as 'closely as possible'.
The decision was announced by school director Tom Inns after painstaking forensic archaeology of the charred remains unearthed artefacts suitable for re-use; notably parts of the studio clock and metal light fittings.
Inns said: "We have learned a tremendous amount about the construction of the library which will be invaluable when we come to begin the restoration.
"All of the surviving material is now stable and secure. It will be reviewed by expert conservators as part of a recovery programme which will take place over the next three years."
The move has been met with criticism in some quarters however with architect Alan Dunlop contrasting the decision with that of former director Francis Newbery, who commissioned the original library competition. He wrote to the BBC: "This is an opportunity lost, and makes a mockery of the architectural competition for new ideas.
"It's a pity that Inns has taken the path of least resistance and has been less forward thinking than Newbery. He should have been brave and held out against the calls for replication aiming instead for innovation and a creative response to the needs of his students."
Avanti, John McAslan + Partners, LDN, Page\Park and Purcell are competing to win the architecture design commission for the rebuild, the winner will be announced by the end of the month.
Back to March 2015