Consultation launched for latest round of A9 improvements
March 9 2015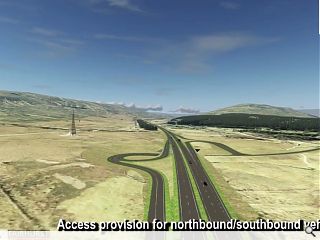 Transport Scotland has launched a public consultation into the latest phase of a £3bn project to dual the A9 in its entirety from Perth to Inverness.
A video fly-through for the project illustrates how a proposed junction could improve access to the village of Dalwhinnie with no less than 15 design options drawn up for the engineering challenge.
Keith Brown, cabinet secretary for infrastructure and investment, said: "… the fly-through images which give road users a real sense of what the new upgraded road could look like and how local access onto and around the A9 might work.
"These are key considerations as we take forward plans and, as consultation is at the heart of the A9 dualling programme, we would like the community's thoughts as we narrow down the options to be taken to the next phase of development.
"As well as public exhibitions, we will also be hosting a series of drop-in sessions where the public can come along and meet with the design consultants on a one-to-one basis."
Work to finish the upgrade won't complete until 2025.
Back to March 2015