Aberdeen apart-hotel project approved
February 17 2015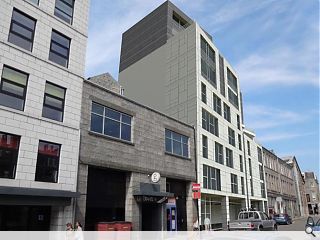 Aberdeen City Council has granted approval to
plans drawn up by Fletcher Joseph Architects on behalf of Central London Serviced Apartments
for a nine storey apart-hotel on Union Street.
Superseding an earlier proposal
the £15m build would encompass a linear plot stretching to Langstane Place, providing a mix of studio and 1 bed apartments arranged around an internal courtyard with a café/bar activating both frontages.
A C-listed Union Street frontage will be retained whilst unlisted properties to the rear of this will be demolished, delineated from the new build element by way of a second landscaped courtyard.
In their design statement Fletcher Joseph said: "The Langstane Place facade will be faced with a random granite stone pattern to give a contemporary feel and the columns at ground floor will be faced with reclaimed granite stones from the demolition of the existing structures.
"The Union Street façade of the proposal will feature granite alongside render. Zinc cladding will be used on the upper floors to give the design a unique edge."
Adopting a series of setbacks are introduced to minimise intrusion upon Union Street the scheme will retain important features such as an original clock used by the Bruce Miller's music shop which formerly occupied the Union Street building.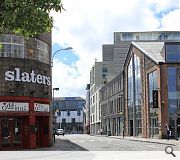 A new build element will front Langstane Road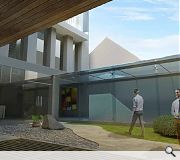 Two landscaped courtyards will be built to maximise daylight to the properties
Back to February 2015