Edinburgh streetscape initiative gets underway with shop front revamp
February 17 2015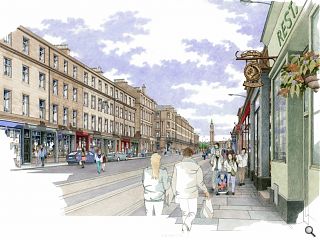 Edinburgh World Heritage has teamed up with the city council and shop owners to undertake a streetscape initiative on West Maitland Street, with work to refurbish up to 16 shop fronts beginning within a matter of weeks.
The move is the first phase of a longer term plan to restore visual coherence to the important tram route, returning some of its Georgian character whilst enhancing the environment of the New Town World Heritage site.
This will see traditional architectural elements, where they remain, restored together with new joinery, metalwork and painting to match what would have been found originally. Where shop fronts have been lost replicas will be built based on surviving designs.
Adam Wilkinson, director of Edinburgh World Heritage said: "The restoration of historic shop fronts is a prime example of how we can use the city's heritage to support its businesses and improve the backdrop to people's everyday lives.
"This sort of scheme is difficult to pull off, as there are so many different people involved, but it will have a lasting and positive impact for this wonderful street at the gateway to the World Heritage Site, with the fine Georgian terrace to the south and handsome Victorian terrace to the north."
Work is expected to cost around £566k, $425k of which is being made available by EWHT in the form of a grant, repayable after 10 years or until the sale of the property. Completion of the work is expected by the end of 2016.
Back to February 2015