University of Edinburgh seeks law school contractor
February 17 2015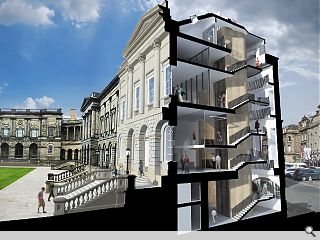 The University of Edinburgh has initiated a hunt for a contractor to deliver a
£20m refresh of its A-listed Law School Old College building
, entailing rationalisation of an internal layout that has become muddled through successive unsympathetic alterations over the years.
This will see a new principal stairway introduced to provide unified vertical access whilst retaining period features and carving out new teaching spaces, including a library and research rooms.
In their design statement LDN Architects noted: "The single most radical change proposed is the creation of a main stair and lift that will link all levels of the School in a clear, unambiguous way.
"It is proposed that the new lift and stair group will be a steel framed structure rising the full height of the building. This will entail removing sections of floor, through which the stair will rise, creating a volume comparable in size to the space occupied by Playfair's grand library stair.
"In detail it will be simply and elegantly detailed to refer to the simple robust detailing in the Law School's existing stairs with metal balustrades but with a level of refinement suitable to its function as a principal stair."
Horizontal reconfiguration will also be undertaken by relocating the Law Library to the ground floor to free up the principal floor for teaching and a new social space. Upper floors will remain in use as academic offices.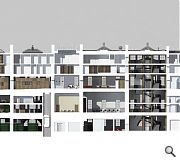 The existing building suffers from an incoherent internal environment and unsympathetic 70s alterations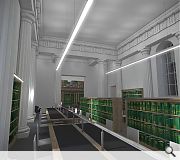 The former Senate Room will be converted to library use
Back to February 2015