Muse defend impact of Marischal Square on Provost Skene's House
February 13 2015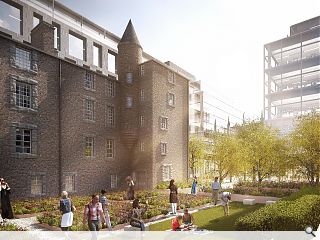 A war of pictures has broken out between developers behind the
planned redevelopment of Aberdeen's Marischal Square
and local campaigners fighting against the scheme with Muse illustrating the relationship of their proposals with the historic Provost Skene House and Marischal College.
Following concerns voiced that the £107m Halliday Fraser Munro scheme would obscure the oldest surviving house in the city backers insist that the property will be framed by a new vista from Broad Street.
Muse director Steve Turner claimed that reaction thus far has been 'extremely encouraging', adding: "We believe Marischal Square is a fantastic business location which will bring forward the much needed regeneration of this part of Aberdeen, with Marischal College at its heart."
Construction work is expected to get underway in March.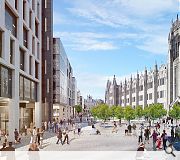 Campaigners argue that the setting of the second largest granite building in the world will be compromised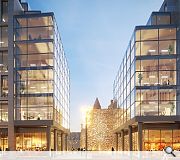 Muse insist that Provost Skene's House will be visible from Broad Street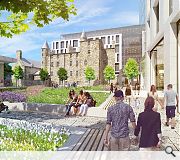 Muse insist that the setting of Provost Skene's house will be enhanced
Back to February 2015