Housing plan emerges for Whiteinch railway embankment
February 13 2015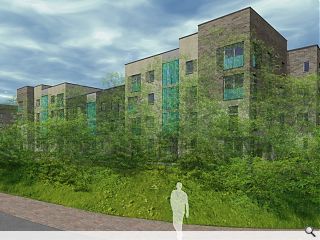 Ian Darby partnership has submitted plans
behalf of Sanctuary
to build 48 homes on the site of a former railway embankment at Curle Street, Whiteinch.
Composed of two blocks recessed from South Street by an earth mound and planting the flatted scheme will be clad in a mixture of brown, buff, dark grey brick and reglit, enclosing private rear courtyards and an area of parking between.
In their design statement ID observed: "Views-maintain pleasant aspect from the existing housing blocks by providing large gardens to the north side of the flats, as well as a pleasant street with 'street trees' and benching.
"Topography screens the site acoustically and visually from South Street with a fence and earth berm."
The land is being sold by Clydeport who have agreed to clear the site, which has become a focus for anti-social behaviour, as part of the sale terms.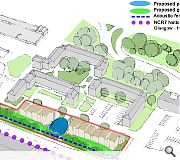 Homes will meet Housing for Varying Needs Design criteria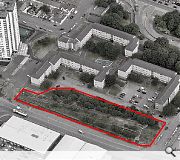 The brownfield site has been left unmaintained since the closure of Whiteinch Station
Back to February 2015