Clyde Gateway showcase One Rutherglen Links
February 16 2015
Regeneration agency Clyde Gateway has opened the doors to their latest office build,
One Rutherglen Links
, as they seek to drum up occupier interest in the 33,500sq/ft property.
Located on the site of the former Monogram factory the open plan office space is the first of seven sites to be built out at Rutherglen Business Park following completion of infrastructure work.
Built adjacent to a conservation area the speculative build helps to reconnect some surviving tenements and terraced housing to the town centre following completion of the M74, which cuts through Rutherglen, and offers panoramic views on offer across the city.
BDP director Bruce Kennedy, remarked: "It's a robust building reflecting the scale of surrounding tenements. The idea was to use a larger panel that was more the texture and matt appearance of stone with a robust brick finish to the rear in reference to the industrial heritage of the site. It also provides a bit more value to keep the quality of the Fibre C material to the principal elevations facing onto the park and the main road."
A glazed 'lantern' on the corner activates the street, designed to enhance visibility from the motorway and surrounding streets to herald the regeneration work with the potential to introduce an architectural lighting strategy.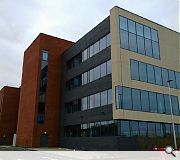 An industrial brick rear elevation contrasts with a Fibre C clad front facade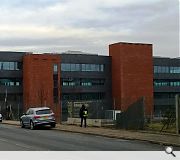 The build is intended as a link to psrt of Rutherglen cut off from the town centre by the M74 embankment
Back to February 2015