Architect artists go on show at new exhibition
January 19 2015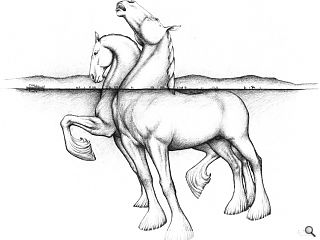 The Scottish Society of Architect Artists (SSAA) is to stage an exhibition of over 100 works produced by contributors from around Europe; including Kelpies sculptor Andy Scott who has produced an original line drawing of his Kelpies sculpture.
'What Lies Beneath II' has been donated by the artist for auction to raise funds for Patrick Wild Centre, one of a number of auctions to be held by the body to raise money for research research into autism, Fragile X Syndrome and intellectual disabilities.
It will be auctioned off by former RIBA president Maxwell Hutchinson as Scott is named an Honorary Fellow by the SSAA.
Members of the public are invited to view the exhibition from
21-24 January at the Edinburgh College of Art Sculpture Court
.
Back to January 2015