Demolition platform raised on Glasgow's joint tallest tower block
January 19 2015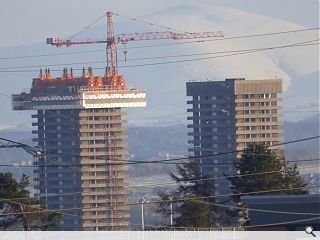 A vertiginous demolition platform has been raised onto the roof of
109 Bluevale Street
, an 85m tall tower block in Camlachie, Glasgow, the joint tallest tower block in the city alongside a twin Whitevale (also 31 storeys).
Both blocks are the tallest in Britain apart from London's Barbican Estate and are being deconstructed piece by piece by Safedem due to their proximity to each other and surrounding housing, as well as the type of core structure employed during their construction.
Known as 'TopDownWay' this obviates the need for scaffolding and entails using a specialised platform for contractors to dismantle floors and walls piece by piece, a process which should complete by the summer from where work will move to Whitevale. The whole process should be complete by 2016.
Safedem managing director William Sinclair said: "We carefully assess every project before developing the safest and most appropriate method of demolition. The 'TopDownWay' is an innovative system designed for the deconstruction of high-rise structures in close proximity to nearby properties."
Existing tenants have either decanted to neighbouring Glasgow Housing Association properties or homes elsewhere in the city with some switching to other social landlords.
Back to January 2015