Greenock orchard and community hall clears planning
January 19 2015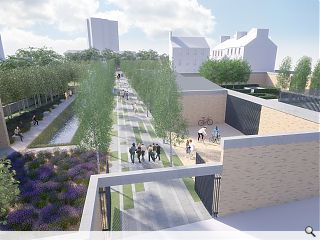 Inverclyde Association for Mental Health have received planning approval from Inverclyde Council for a horticultural training and community centre at Broomhill, Greenock.
Designed by Inch Architecture and ERZ landscape architects it will see two brownfield sites transformed into a walled garden containing its own orchard, training area and single storey community hall.
Situated on the corner of Mearns Street and Dempster Street it will offer large recessed entrances leading through landscaped 'anterooms' intended to 'mediate between the street and the inner garden.'
Landscaped areas are framed by the predominantly brick community centre, with each elevation subdivided into bays so as to allow large glazed openings fronting the orchard.
In a design statement Inch stated: "An intensive green roof offers views across Greenock, towards the River Clyde. Aluminium clad, pitched-roof external training rooms form opposing elevations to the community building and also define the new 'green street' which connects the community centre to the growing gardens of In-Work – the training wing of Inverclyde Association for Mental Health."
Work is scheduled to get underway in the summer.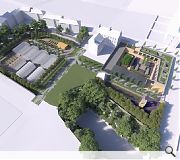 An extensive area of brownfield land will be reclaimed for the project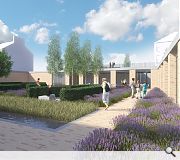 Project backers aim to create an oasis in the heart of the town
Back to January 2015