Gorbals regeneration continues apace new infill housing
January 16 2015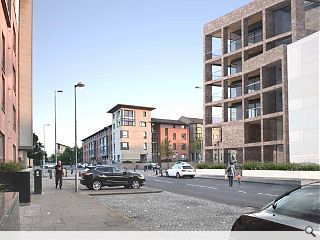 The regeneration of Glasgow's Gorbals is continuing apace with the
submission of proposals drawn up by Elder & Cannon
architects for residential infill on the site of
twin demolished tower blocks at Sandiefield Road
.
Delivered by New Gorbals Housing Association the scheme is part of a wider redevelopment of the block including new housing association offices and a health centre with the housing expected to be the first element to be delivered.
Adopting a trademark palette of dark brick the scheme continues the pattern of tenemental scale and pared down pallet of materials
set at Laurieston
.
In their design statement Elder & Cannon said: "… the building shifts to acknowledge the former street and to align with the new offices on the north and the garden courtyard of the health centre to the west forming a new garden amenity courtyard within the heart of the development shared by the three functions."
Construction work is expected to get underway in the autumn.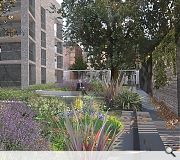 A courtyard garden will extend to a neighbouring health centre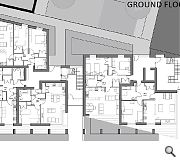 A kink in the floorplates is designed to acknowledge the former street pattern
Back to January 2015