V&A Dundee costs balloon to £80m
January 16 2015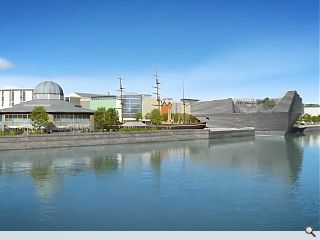 The estimated cost of delivering Dundee's waterfront V&A museum has nearly
doubled from £45m
to £76.16m as contractor BAM Construction faces up to the reality of the 'unique' challenges presented by the build.
These include bid inflation within the building industry since the project was first conceived and an underestimate of the expense entailed in delivering the shell and cladding as specified.
The inflation-busting price hike would necessitate scraping together an additional £22m of funding from the Scottish Government, £4.5m from the Heritage Lottery Fund and £6.6m from private donors. Dundee City Council would itself commit a further £6.5m.
Attempting to explain the hike Dundee development director Mile Galloway said: "The building is structurally formed with a concrete shell which is cast on site. The cost of that process and the work associated with that was much higher than anticipated.
"Prior to going to tender we had consulted with major contractors and sought their advice, so not only was it a surprise to us, it was a surprise to them."
Councillors will decide whether to go ahead with the cherished project or go back to the drawing board on 26 January, with delivery not now expected before summer 2018 – if at all.
Back to January 2015