Kirkmichael Primary recognised for education design
November 17 2014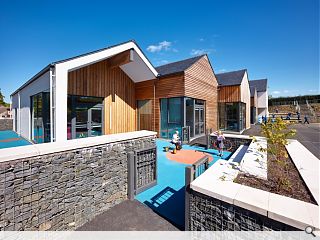 Kirkmichael Primary School, South Ayrshire, has won an education design award by the Glasgow Institute of Architects in recognition of its contemporary interpretation of the village's rural character.
Acting as a visual focal point the £2.3m school is conceived as a series of linked farm steadings incorporating teaching and break out areas as well as a nursery and gymnasium.
In their design statement Holmes Miller said: "The design utilises steep symmetrically pitched roof shapes together with a simple long narrow plan form, typical of most rural locations, and flat, minimally articulated facades with a greater mass of wall to window to considerately integrate the school into its rural setting and landscape.
"External finishes of render, timber, stone and slate create a modern contemporary style and provide a robust and low maintenance finish replicating the traditional vernacular style."
Kirkmichael Primary accommodates up to 75 pupils and replaces a 1970s facility.
Photography by Andrew Lee

Back to November 2014