Central Station upgrade makes first impressions count
November 14 2014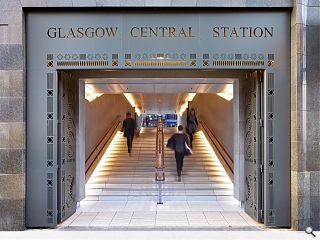 With public tours of Glasgow's Central proving to be a runaway hit Atkins have unveiled the most recent intervention to the 135 year old station.
This has seen the entrance to low level platforms from the upper concourse signified by the introduction of a tall archway structure designed to recall the original decorative gateways and barriers which once graced the terminal.
A separate entrance from Union Street has also been given a makeover with the introduction of large format porcelain tiles and large format gates featuring ornate metalwork based on motifs and symbols present in the surrounding historic structure.
Project architect Logan Doak, commented: "There was an over reliance on complex signage within the station and there was a desire to simplify the passenger journey and communicate important gateways from a distance through material and form. Although significant in scale the new Arch and gateways are elegantly proportioned and delicately perforated, laser cut steel plates help belie their structural weight."
Photography by Andrew Lee

Back to November 2014