Final go-ahead given for Glasgow Women's Library refurb
November 14 2014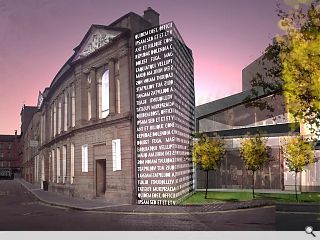 A £1m refurbishment of
Glasgow Women's Library
on Landressy Street, Bridgeton, is to get underway in just ten days' time.
The Clyde Gateway facilitated project is being delivered by Hub West and will see significant internal and external refurbishment works carries out to Bridgeton Public Library, bringing improvements such as a dedicated archive, learning and exhibition spaces, a café and lift access – screened by patternated metal mesh .
In a statement the library said: "Exactly a year after relocating to our beautiful new Bridgeton home at 23 Landressy Street, we are overjoyed to announce the start – at last – of building works to further transform our premises.
"It has taken longer than we thought to move on to Phase Two of this project and has involved a lot of hard work, but the successful raising of just under £1m, with the invaluable support of Clyde Gateway URC, means that on 24th November our Contractors, Maxi Construction, will begin on site."
The Collective Architecture designed project is scheduled for completion by May 2015.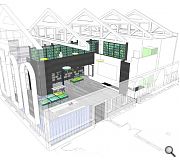 An internal reading room will be fully refurbished
Back to November 2014