£24m Kirkcaldy high school wins go ahead
|
Send to friend
October 24 2014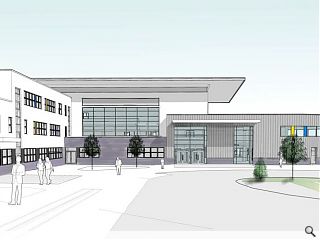 Fife Council has given the go-ahead to a £24m replacement for Viewforth High School, Kirkcaldy, to serve as a new community hub and up to 1,000 pupils.
Designed by Fife Council property services on a 'street and finger' plan the new school will comprise three distinct elements; a central street, teaching wings and large volume spaces such as an assembly hall, gym and drama studio.
In their
design statement Fife Council
said: "The main entrance and double height library on the west elevation of the central street is highlighted by the use of blue black facing brick base course with silver vertical metal rainscreen cladding. A clerestory window wraps around the curved element of the Library.
"Above the library is a roof terrace area. The central street has one three storey and one two storey glazed facades to the west with white render on the solid wall areas above."
It is hoped to have the school open its doors in time for the 2017/18 academic year.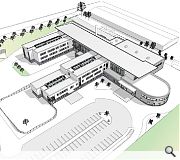 Pupils will decant a listed 1908 property in the switch to their new premises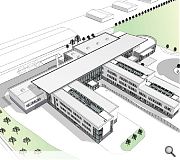 The new school will bearranged across several 'fingers' of accommodation
Back to October 2014