Tesco unveil Dunfermline superstore
October 24 2014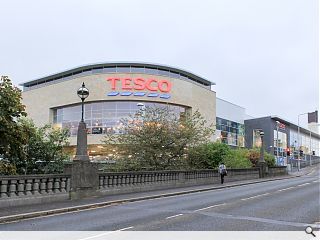 Struggling supermarket chain Tesco, fresh from announcing a 92 per cent collapse in profits, has unveiled its newest outlet, a 52,000sq/ft store in Dunfermline.
Built by Barr Construction and designed by Manson Architects the store incorporates 500 undercroft parking spaces and plugs into a local district heating system which converts waste methane from discarded food into renewable energy and heat.
It sports particular façade treatments to help the store 'blend in' with its surroundings.
Andy Ferguson, operations manager at Barr Construction, said: "Barr Construction has worked on a number of elevated stores like this one for Tesco and following the successful completion of the Dunfermline project, we look forward to the exciting next stage in the relationship."
The Dunfermline opening follows
hot on the heels of a similar project at Linwood
, delivered by the same project team.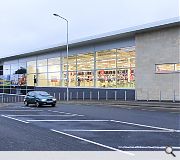 A stone facade attempts to blend the store into its surroundings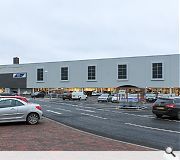 Incongruous 'window' detailing on the rear service elevation
Back to October 2014