Aberdeen mounts tourism push Rubislaw Quarry Heritage Centre plan
October 22 2014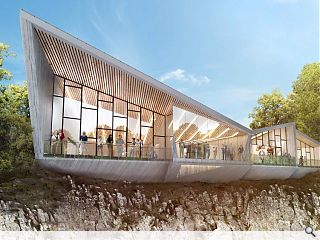 Plans have emerged to construct a
£5m heritage centre
overhanging the lip of the former Rubislaw Quarry, Aberdeen, dubbed the largest man-made hole in Europe. Over 10m tons of granite was extracted from the hole between 1740 and 1969 and used to build much of the present city, but the site remains largely forgotten since operations ceased.
Now Halliday Fraser Munro Architects plan to wake the area from its slumber with designs for the Rubislaw Quarry Heritage Centre by lowering the water level of the flooded pit by 50m and opening up access to the public.
In their design statement HFM wrote: "The new centre celebrates the excitement of the quarry through use of a dynamic form. The façade makes use of reclaimed Rubislaw granite mimicking the quarry's rock face in an abstract way.
"While the frontage to Queens Road is windowless the rear maximises the use of glass to give as many views of the quarry as possible."
Funding is presently being sought from Aberdeen City & Shire, Aberdeen University and Robert Gordon University as well as private sector partners through the Granite Foundation charity to realise the vision.
It is hoped to win approval for the build by December allowing completion as early as 2016. The scheme follows separate plans to build
office space on vacant surface ground around the quarry
.
Back to October 2014