Ecological design and build school opens in Milton
October 21 2014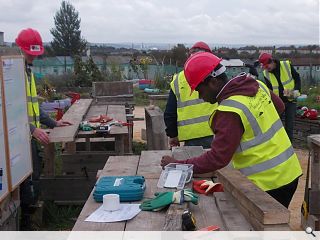 A new ecological design school has begun training up its first cadre of construction recruits in Glasgow, operated in partnership between the Scottish Ecological Design Association (SEDA) and community organisation LoveMilton, after obtaining a £10k lottery grant.
The SEDAbuild school offers pilot courses, workshops and volunteer programmes designed to pair experts with self-builders to provide facilities for deprived communities.
Emily Stephen, SEDAbuild School development officer, said: "The SEDAbuild school will encourage even the most inexperienced of self-builders to get their hands dirty, providing them with the confidence, the information and the skills to engage in and take on their own building projects.
"Together, the SEDAbuild school and LoveMilton will develop and deliver courses that cover a variety of design and build techniques. Pilot courses will run over the next six months and are set to include, small scale green roofs, timber construction and building with recycled materials."
SEDA chair Matt Bridgestock added: "For SEDA the potential of the school lies with the spread of knowledge and experience of ecological building to everyone, as well as providing an exciting alternative to a construction industry too often set in ecologically damaging ways."
An inaugural 'Green Roof Long Weekend' will take place between 31 October and 2 November with anyone with a passion for ecological design and an interest in hands on work invited to get involved by contacting Emily Stephen at sedabuild@gmail.com or via
www.seda.uk.net
.
Back to October 2014