Salvation Army's Strawberry Field visitor and training centre wins approval
October 10 2014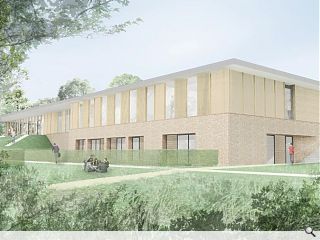 The Salvation Army has won planning permission from Liverpool City Council to build a Gareth Hoskins Architects designed training and visitor centre for young people with learning difficulties at Strawberry Field, Woolton.
Immortalised by the Beatles track 'Strawberry Fields Forever' the site was formerly host to a children's home and now attracts over 50,000 visitors a year.
Taking the form of a pavilion subdivided into public and private elements the scheme will retain existing features such as entrance gates will be retained for the build, which aims to improve pedestrian and vehicular access to the building and gardens.
Chris Coleman-Smith, director at Gareth Hoskins Architects commented: "We are privileged to be working on proposals for this world famous site and have been delighted by the Salvation Army's concern for the local community, Liverpool, and visitors who travel from all over the world to visit the iconic gates.
"The building addresses real needs at every level, and we have enjoyed working with the client and wider team to develop a simple and rational proposal for the building and site that addresses the requirements of a wide range of users in this unique landscaped setting."
Landscape architects Rankin Fraser have also been brought on board to protect views to the surrounding gardens and mature woodland.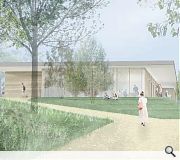 The split level pavilion is designed to provide level access throughout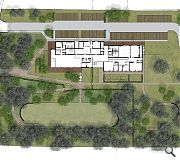 The training and visitor centre sits within extensive landscaped grounds
Back to October 2014