Scotland + Venice architects document Glaswegian 'utopias'
October 9 2014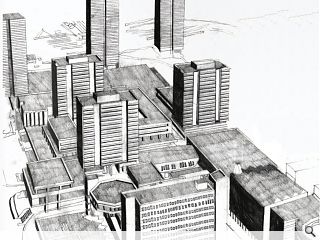 A series of modernist visions and buildings find themselves the subject of debate at Scotland + Venice as the architectural style, as applied in Scotland between 1950 and 1970, comes under the spotlight.
Four architect-led teams, directed by Reiach & Hall, are participating in a month-long residency in the Italian city with the second group assessing how Glasgow's grid iron city centre has adapted to the 20th century.
The scope of this work encompasses the Anderston Centre, College of Building and Printing and the Glasgow Dental Hospital as they were built together with the
mercifully never implemented 1945 Bruce Plan
and later
Highways Plan of 1965
.
In a
specially commissioned paper
the team outline the influences which inspired such thinking and carry the last interview with the late Professor Andy MacMillan.
Neil Gillespie, design director at Reiach and Hall, said: "In truth Glasgow is Scotland's only city that approaches a metropolis. It is marked by strong Victorian development of a Georgian mercantile grid. The group have explored in some depth how the architects and developers of the 1960s took the Glasgow grid to literally new heights. It is a fascinating and revealing piece of research.''
Back to October 2014